Nissan Leaf - Landers Nissan

MR16DDT – 1.6-liter (DIG) Engine
---
188 horsepower*
177 torque*
16-valve turbocharged 4-cylinder engine*
NISMO-tuned MR16DDT – 1.6-liter (DIG) Engine
---
215 horsepower*
210 torque*
Features*
---
JUKE® COLOR STUDIO: COLOR CHANGES EVERYTHING The perfect way to make a personal statement and stand out from the crowd. From wheels to spoiler, headlight finishers and more – you can mix and match up to nine color choices, including the Carbon Fiber Look. Choose one accessory, or all of them. The possibilities are endless, and uniquely you.
JUKE's available I-CON system lets you change up your ride with the push of a button. Whatever mood you're in, JUKE has a mode for it. You can keep stats on your performance and adjust the climate, all while you're out and about.
Instead of traditional All-Wheel Drive (AWD) systems that only distribute power from front to back, the torque vectoring AWD that's available on JUKE® adjusts power side-to-side to the rear wheels. When cornering, this means the outside rear wheel gets more power, helping you rotate into the curve and accelerate out.
VEHICLE-SPEED-SENSITIVE ELECTRIC POWER STEERING
Every little bit helps. Using electric power steering instead of hydraulic power steering cuts down on the amount of power needed from the engine. And that means more miles out of every tank. Plus, it helps automatically adjust steering feel based on vehicle speed.
*Available Feature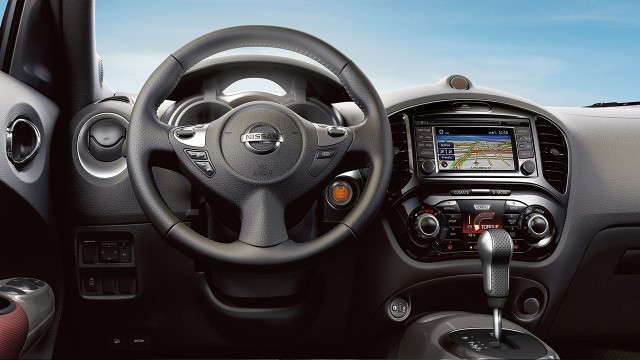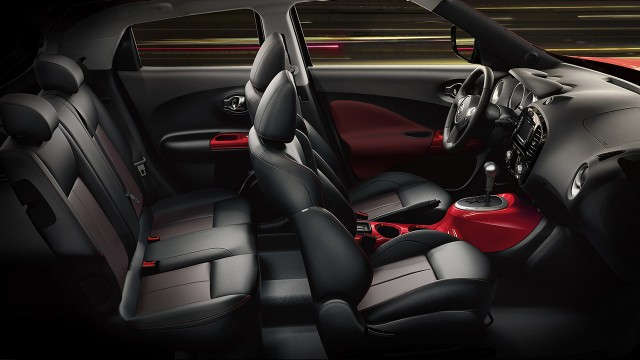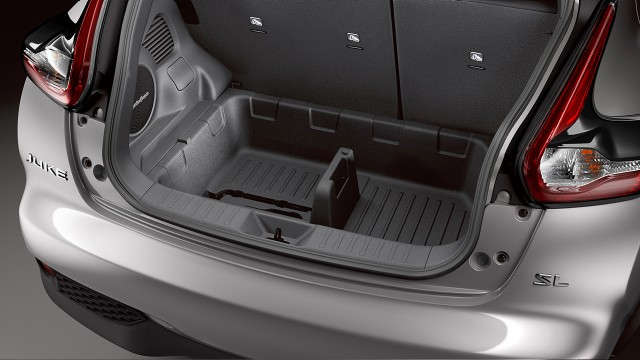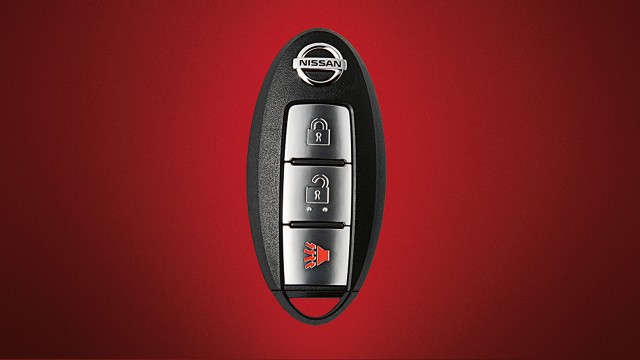 Available New features
---
The exclusive NISMO interior features bolstered performance seats, a black Alcantara®[*] leather-appointed steering wheel with a red accent at 12 o'clock, a leather shift knob with contrasting stitching, and a vivid red tachometer.
The turbocharged 1.6-L engine has been tuned to hit its peak of 188 horsepower at 5,600 rpm. You're going to feel the full NISMO effect when you really need it – when you are passing 18-wheeler convoys on the highway.
It's lower, leaner, and meaner. NISMO engineers dropped the suspension, enhanced the aerodynamic profile, tweaked the rear spoiler, and gave it 18" aluminum-alloy wheels with low-profile performance tires.
Available NissanConnectSM with Navigation and Mobile Apps uses hands-free technology, your compatible smartphone, and your Nissan's display screen to help you stay in touch with the outside world from inside your vehicle. Available features let you play your music, keep tabs on your social network, and navigate any city like a local.
Tire Pressure Monitoring System (TPMS) When it comes to tire pressure, TPMS takes away the guesswork. Using an icon on your dash, the system notifies you when tires aren't properly inflated.
Anti-lock Braking System (ABS) When you need to stop in a hurry, the Anti-lock Braking System pumps the brakes faster than you possibly can, helping to prevent wheel lockup and maintain steering control.